Ball Valves
Ball valves are most often used where a meter control or shut is needed, including energy, chemical engineering, metalwork, and pipe fluid control industries. We offer an extensive array of ball valves to meet every customer need.
Electric Ball Valves

Electric ball valves are used to open and shut flow passages through a rotating output drive. Compared to other valve types, electric ball valves are able to withstand a higher meter, high pressure, and higher temperatures. They are also compatible with a wide array of media, including water, air, oil, acid, and alkali corrosive mediums...

Manual Ball valve

RUNXIN offers an extensive array of manual ball valves, each of which is equipped with standard locking handles. To better meet customer needs, we also offer oval handles, tandem links, and spring return handles. Valve body materials include stainless steel and PPO. Please do not hesitate to contact us, and share your requirements for application, size, and joint type...

Pneumatic Ball Valve

Pneumatic ball valves are used as a diverter or selector valve depending on specific application needs. This ball valve controls valve opening and closing by compressing the air, with the speeder used to adjust the time. Compared to other valves, pneumatic valves offer a faster opening and closing...
Features:
Small torque
The patented design structure (patent number: ZL201320732225.7) reduces the pressure placed on the balls by the valves.
The balls and the valve seat are made using high hardness and high-quality ceramics, making it easy to open and close the valves.
The ceramics themselves ensure there is no torque change even after long term usage due to the wear and abrasion resistance.
The torque on these ball valves accounts for only ¼ to 1/6 that of a metal seated ball valve, while the torque of those below DN50 account for only half.

Wear resistance
Ceramic features a high hardness, ensuring it can withstand harsh conditions.
Corrosion resistance
Ceramic balls maintain an excellent chemical stability as they will not react with most chemical mediators and maintain their properties even when exposed to esters, alcohol, and hydrocarbons.
No leaking
Through precise grinding, the sphericity of the ceramic balls is 0.005mm.
Custom options:
Nominal diameter: DN15-DN200; Nominal pressure (PN): PN10-PN25
valve seat and ball materials: alumina 95, alumina 99, zirconia, and silicon carbide, etc.
Valve body materials: UPVC, PPO, 304, 316, 316L
Drive mode: manual, pneumatic and electric.
Connection type: threaded connection, flanged connection, UPVC glue socket and hot melting connection
Wiring type: 2 wires, 3 wires
Optional functions: auto return after power on, signal feedback, adjustable flow rate, remote control, automatic switch time setting
Application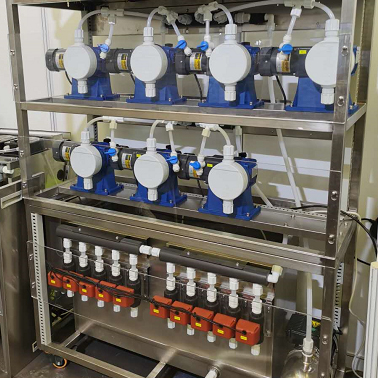 1) Silicon carbide core ball valve used in the laundry dosing systems
Ordinary alumina ceramic will be damaged by the detergent because it is highly corrosive. As a result, the silicon carbide ceramic core is used in the ball valve.
At present, there are very few manufacturers that can produce silicon carbide ball core in the world. Runxin's major breakthrough in the production of silicon carbide ball core has promoted the application of ceramics in ball valves to a higher level.
2) Ball valve applied in shut-off valve
Leakage sensors can be multi-connected, and once a leak is detected, the electronic ball valve is closed, potentially reducing water loss.
It can be repeated to use (replace the absorbent cotton)